30. January 2022 tags: beef, steak, grill, sauce
Grilled Steak with Green and Red Chimichurri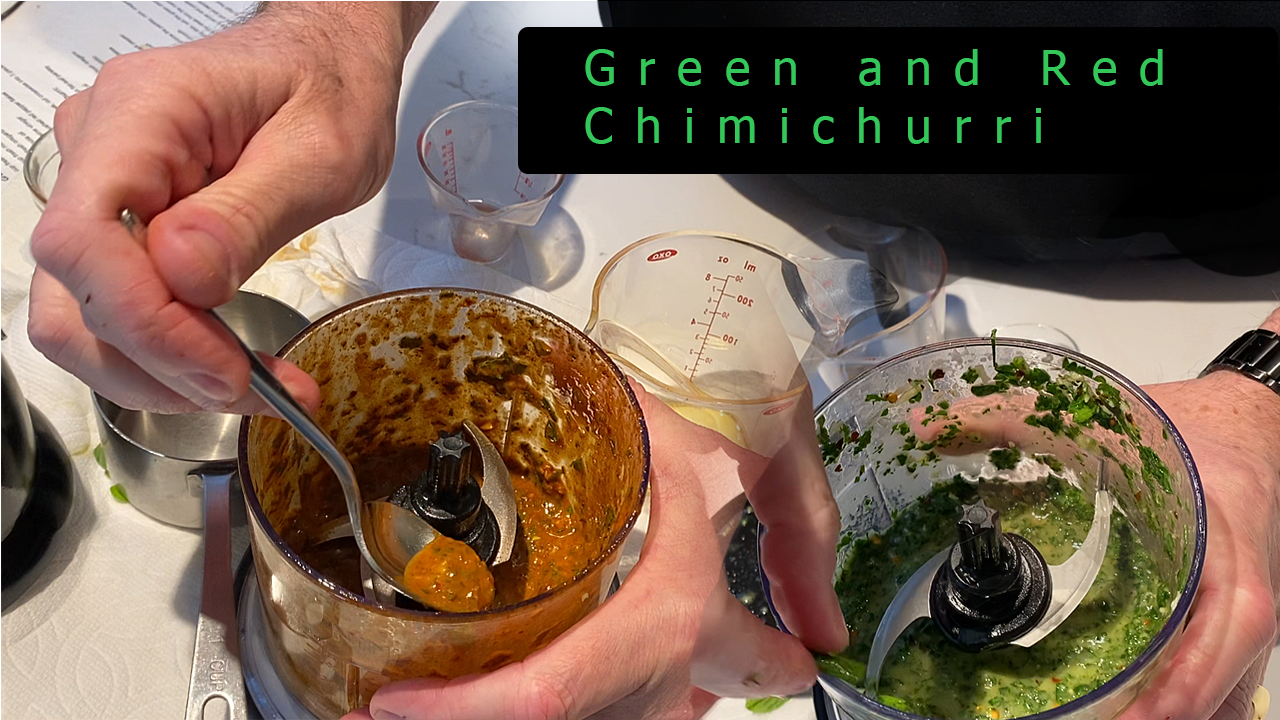 I have always been a fan of the "classic" Food Network, before it became a bunch of game shows and food competitions. The classics from Alton Brown and Bobby Flay doled out some of my favorite recipes. Bobby grills meat, and he adds flavors that I had never tried before. I love red meat in all forms. An Argentine Steak House is heaven on a plate. So here we have a favored Bobby Flay recipe that can easily cover 4 steaks of any kind. We're using a New York, but Sirloin up to Rib Eye will all benefit from this treatment.
Ingredients
Green Chimichurri
1 cup fresh flat-leaf parsley leaves
1/2 cup fresh mint leaves
1/2 cup fresh oregano leaves
1/2 cup vegetable oil
1/4 cup red wine vinegar
1 tsp crushed red pepper flakes
8 cloves garlic
steak of your choice, skirt steak, flank steak, New York, Rib Eye, etc.
Red Chimichurri
1 cup fresh flat-leaf parsley leaves
1/2 cup extra-virgin olive oil
1/4 cup red wine vinegar
2 Tbsp fresh oregano leaves
1 Tbsp chipotle in adobo
1 Tbsp smoked paprika
1/2 tsp crushed red pepper flakes
3 cloves garlic
salt and pepper to taste
Steps
For the green chimichurri, combine all of the ingredients (except the steak) and process until smooth.
Place the steak in a zip lock bag with all of the green chimichurri and massage to coat. Marinate for 4 hours (up to 24 hours).
30 minutes before grilling, remove the steak and place on a plate at room temperature.
For the red chimichurri, process all of the ingredients as before and refrigerate. This sauce gets better with time so make it at the same time as the green sauce so the flavors have time to marry.
Grill the steak over high heat to your desired degree of doneness, allow to rest for 5 minutes.
I prefer to plate the red chimichurri first and then lay strips of steak on the sauce.
Enjoy!
The Latest