23. January 2022 tags: dessert
Angela Pia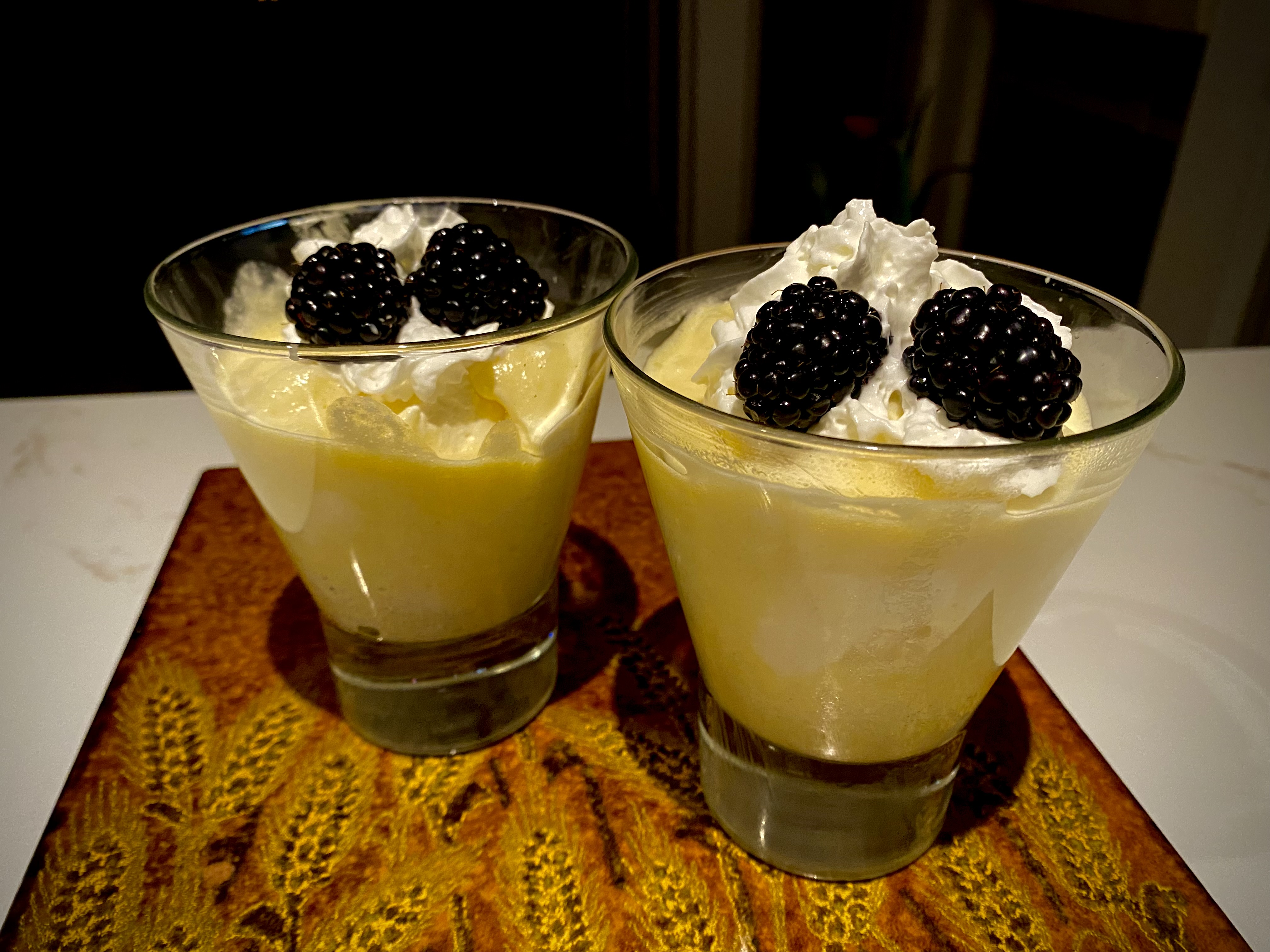 When I was a kid, my mom and dad used to host dinner parties for friends and special business partners. These were lavish occasions with cocktails, hors d'oeuvre, dinner, and dessert all planned in advance. My brothers, sisters, and I were always included, usually as servers, but always at the dinner table too. We knew guests were coming over when we'd open the fridge and see crystal glasses filled with Angela Pia. This delicious, make-ahead, dessert is a stellar end to a wonderful meal. Your guests will be left with memories of your elegant and amazingly light "mousse" not knowing how simple it was to prepare.
The recipe was famously served at Pietro 311 in San Francisco, they shared the recipe freely. The name means "Pious Angel". This dessert is a '70s classic along with Grasshopper Pie. Enjoy!
Ingredients
3 eggs separated
8 oz whipping cream
1 tsp pure vanilla
1 envelope (1 T) unflavored gelatin
1/2 cup granulated sugar
1 oz brandy
1 oz rum
Steps
Beat the egg yolks until light and lemon colored. Add sugar gradually and continue beating until a creamy mass results. Add brandy and rum.
Beat egg whites until stiff but not dry.
Whip cream until stiff enough to stand in firm, shiny peaks. Add vanilla.
Soak gelatin in 1/4 cup cold water for 5 minutes, then stir over hot water until the gelatin dissolves completely. Stir thoroughly into egg yolk mixture and then fold in, gently but thoroughly the beaten egg whites and whipping cream.
Pour into cocktail or sherbet glasses.
Chill two hours before serving.
The Latest