07. April 2013 tags: nadac, agility, dogs
Happy Birthday Mary Jane!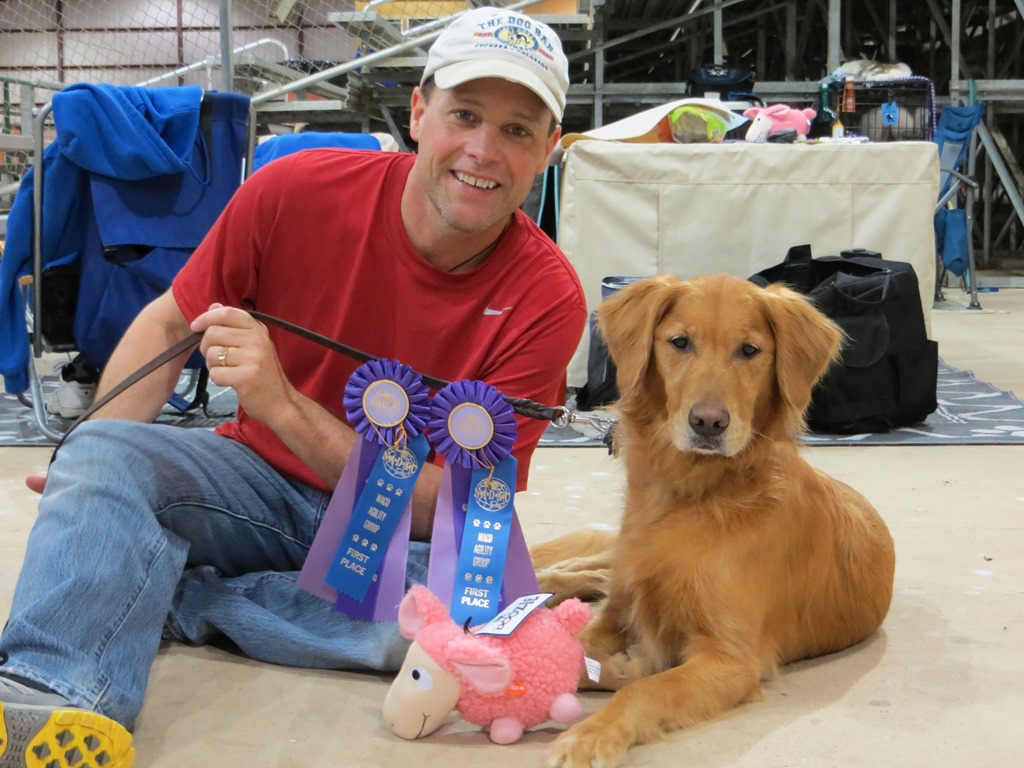 This month we're celebrating Mary Jane's birthday in several special ways. We kicked it off by attending the Waco Agility Group Trail in McGregor, TX. Mary Jane was happy to make her birthday a "family day" with Ruby and Me. It was a great day. We got 4 runs in, saw my niece Rene (which caused Ruby to completely LOSE HER MIND!), we finished just after noon, and Ruby gave MJ two first place ribbons for the wall (and two purple Q ribbons too).
Ruby and I have been working extra hard on our agility skills and it really showed in this trial. In the past I have had a hard time with Ruby on the first run, she may run off or fly off a contact. Our training with Becky and the Megan Foster seminar has been particularly helpful with Ruby's attention (and my ability to maintain it). I have also been running more so that I can keep up with Ruby when she runs. I prefer to run with her rather than handler her from a distance. For me, it's more fun.
I try to never blame Ruby for my mistakes. My trainer Becky says that the handler is always at fault (though in most trails you will here handlers berating their dogs for "doing the wrong thing"). The video always shows the truth, there is always something you did to indicate to the dog the wrong action. She says, fundamentally, there are two major mistakes that handlers make, errors in handling and errors in training. You will see both in the following videos.
Novice Tunnelers
We should have CRUSHED this course. It was a fun course with several visual challenges. I got complacent in my handling and after the second tunnel I stopped giving Ruby good information about where to go next. As she exits the third tunnel I call her off the fourth. She did exactly what I asked, she came to me, breaking her direction of travel, handling failure. NQ
Open Regular
This was another course that we have trained for. If you saw Ruby's run from the last time, you know we have had attention issues. This is a failure in training. I looked at the course and flashed back to the previous event. I decided to handle the start without a lead-out so she would start with me and then move away to the weaves (which we have been working on for the past two weeks). After that, the challenge is the obstacle discrimination at the dog walk, Ruby has to do the dog walk and not the tunnel. Watch Ruby kick up dirt when she rounds the corner after the tunnel and hoop, I call this level of effort from her "Dog on Fire"! When she's in the zone, watch the dirt fly.
Novice Chances
Totally my fault, after Ruby clears the first two jumps on the Send I give her a tunnel command, and she does it. The problem is I should have done a better job and indicated which tunnel. Handling Failure, NQ.
Not that tunnel! THAT tunnel!
Open Jumpers
Last run of the day. We needed one more Open Jumpers Q to advance to Elite. I was REALLY nervous when I stepped up to the line. Ruby had been scratching at every start (training failure) and I did not want her to break her stay. The course flowed with two tricky spots. Ruby crushed it, hanging with me the whole time, even when I threw in an awkward blind cross between 11 and 12. First Place, Q10 and Open Jumpers Title!
Hustle and flow
Good Girl!
Ruby had a great day. I am so pleased that the training is really paying off. I am also looking forward to working the little kinks out of my handling and moving Ruby up in these events. I love spending the time with MJ and Ruby, I like the ribbons and Ruby likes the toys and we're all having too much fun to stop.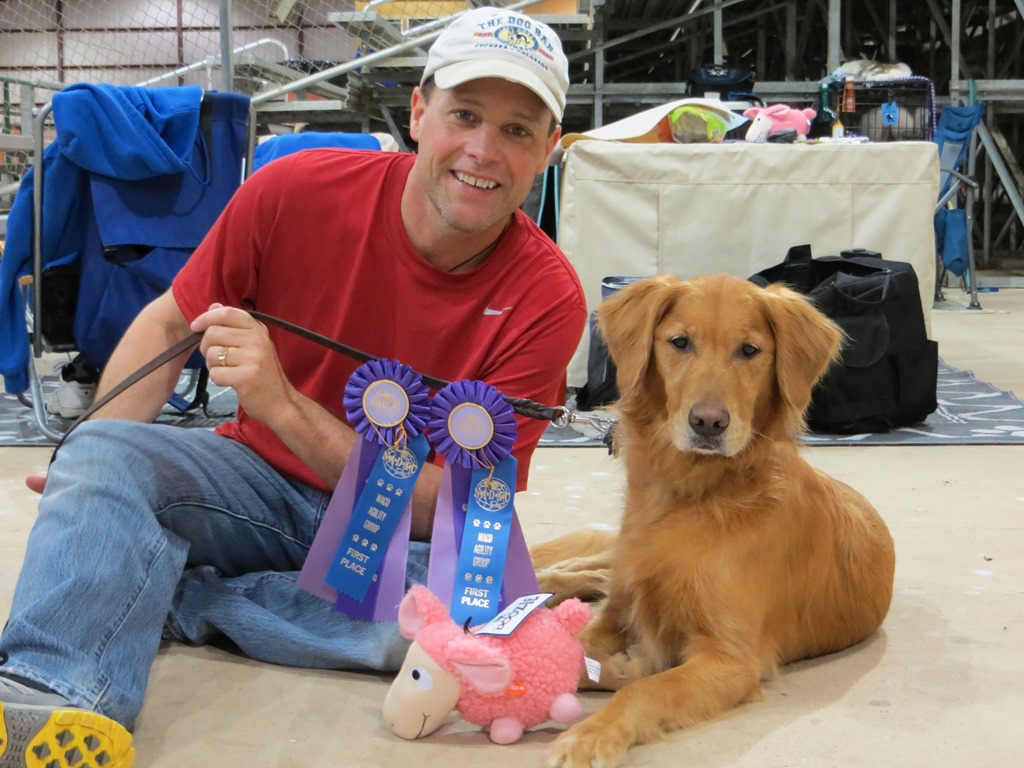 The Latest