25. April 2013 tags: travel
Best of our Trip to Ireland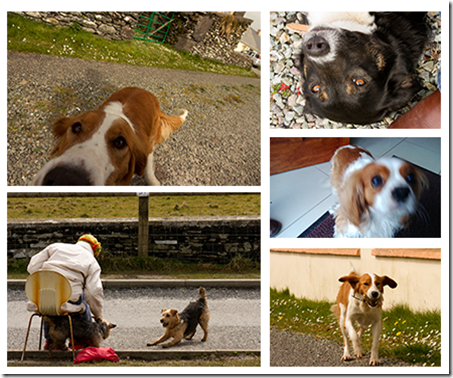 Favorite Dogs
All of the dogs were our favorites. There we're many more we could not catch for a picture. Ireland has a huge number of stray dogs, we saw them everywhere. The most frightening was seeing them cross the streets (though most of the time they did a better job than we did.) They moved through the towns like they were on a mission. We never saw one that was underfed or injured, so it may also be the case that they were "town dogs", owned by no one but cared for by many.
Here are the shots of the ones who hung around long enough for me to photograph. (Though Coco never sat still long enough to get a "still photo".)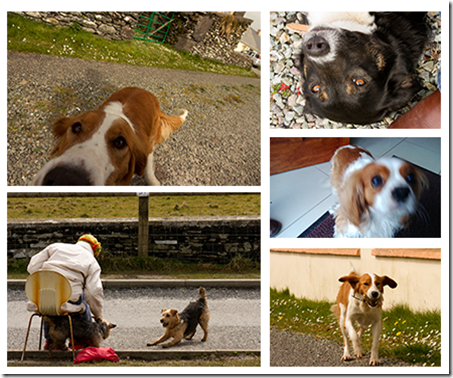 Clockwise from top left: Orange dog and Black dog, Dingle Peninsula; Coco, Galway; Orange dog bringing us her bone; Music Lady and Lakeland Terriers, Cliffs of Moher
Region We'd Visit Again
Connemara, the area is huge and studded with lakes and rivers, fishing lodges and quiet getaways. We took the main road through for time, but there are hundreds of back roads that need further exploration.
Most Helpful Person
Our first night in Dublin we set out for a pub known for traditional Irish music and Guinness. It was a brisk evening and about 100 paces from the hotel it began to rain. Not to worry though, MJ had an umbrella. What we were not prepared for was the 40 mile/hr winds that crashed down the narrow streets. We reached a bank ATM shelter where I stopped to cover my camera bag. Just then a man came by with an umbrella 3 times bigger than ours which is clearly designed to not only keep him and the surrounding half acre dry, but also baffles the wind without leaking. We got to talking (only understanding half of what he said) but he knew the Cobblestone Pub and went out of his way to be sure we made it there safe and dry. We call him "Umbrella Guy".
Favorite Pub
Which leads us to our favorite pub. We met a lot of great bartenders and had great beers and food, but our favorite spot included a group of musicians right at the front door that made the whole experience complete. Cobblestone Pub in Dublin is a great location for music and beer. It doesn't have the formal feel of the other "Live Music Here Tonight" locations. The music is casual, informal, more improvisation and jam session than "set list". (I was about to take a photo of the fiddle player and she caught my eye, I mouthed the works "OK?" and she winked approval while crushing a fast paced solo). It's not so small that you can't get away from the band and not so big that you can't hear the music over the conversation (which is happening in about 3 different languages).
Best Meals
We had some great meals, to have to choose one would be hard. Here's the most memorable.
Seafood: O'Grady's on the Pier, Barna, Galway, Locally sourced prawns, crab and smoked salmon on a bed of field greens and a light vinaigrette.
Pub Food: Murphy's Pub in Killarney, Guinness Braised Beef with vegetables and "Loin of Bacon" with cabbage, we'd call it Ham, but not like US ham, the meat in both dishes was silky and tender, the vegetables, perfect.
Indian Food: Mother India, Roscommon, amazing spice, perfectly hot. The Balti and vegetable pakoras were perfect.
Best Part of Driving
Our car, the Citroen C5. I have never rented a car that I ever considered buying until I drove this car. It was a dream to drive. Absolutely the most fuel efficient car I have ever driven, we covered over 800 miles on a single tank. It would not idle, it shut itself off. Tap the accelerator and it's going again. The controls, the handling, the layout, the seats, everything was perfect (it even stows the side view mirrors when you lock it.)
Second runner up for our favorite part of driving was the roundabouts. I really wish the US would stop putting up traffic lights and start using traffic circles, they are so much more efficient and allow the busy traffic to FLOW.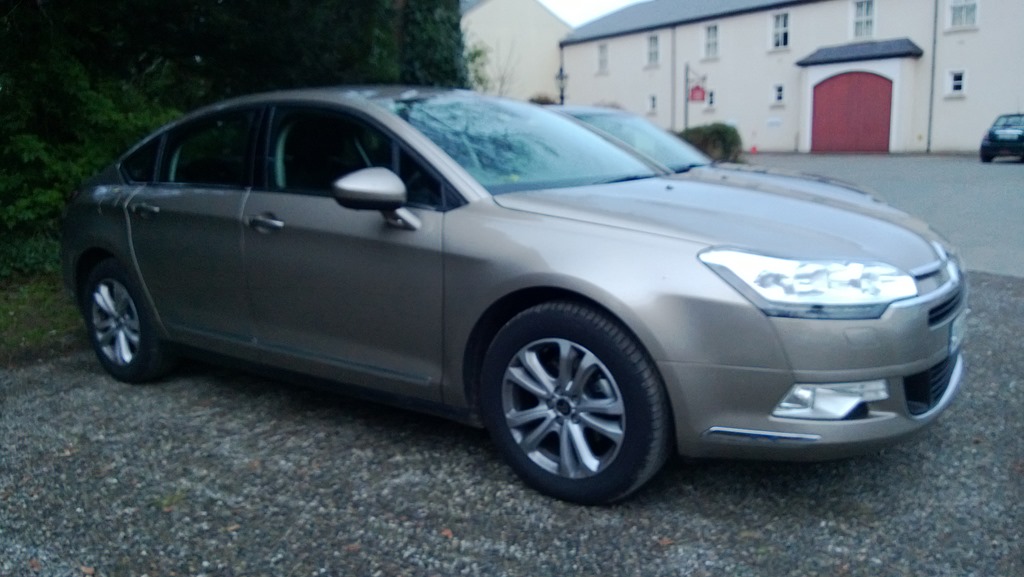 Worst Part of Driving
Everything else. While, technically, driving on the other side of the road is not hard, it does present spatial perception challenges. After a day we stopped using Left and Right and resorted to "My Side" and "Your Side". We worked as a team when things got tight, I would deal with the immediate threat (oncoming car, bus, sheep, or tractor) and MJ would look ahead for the next turn, pedestrian, sheep, bus or tractor.
The roads here are lined with tall hedgerows that appear to reach out to trash the side of your car, when the road is wide you will rarely see another vehicle, the more narrow the road gets, the bigger the oncoming vehicle will be, sort of an Irish rule of inverse proportion.
Reading some road signs was fun too…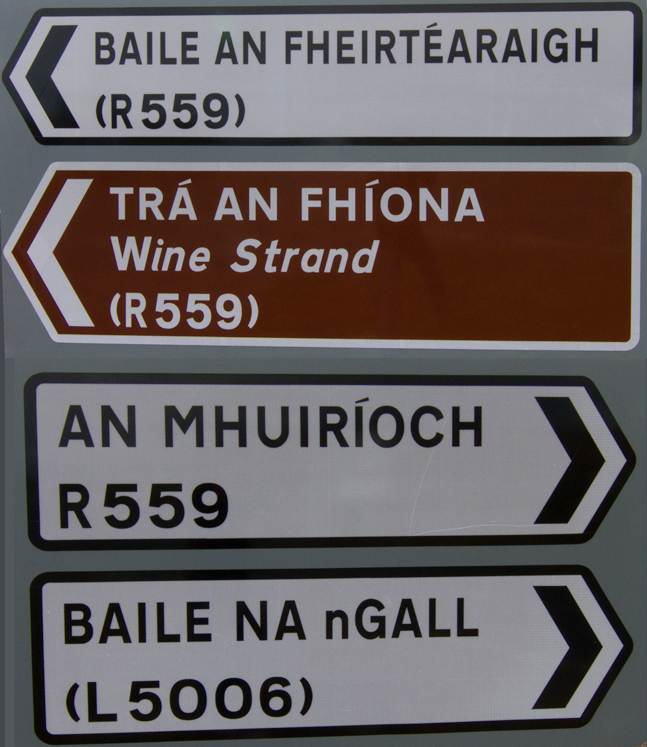 Worst Timing
Arriving in Westport on a Monday. All the music happens at night, this is a place to arrive on Friday and stay 'till Sunday. One of the Pubs is owned by the flutist for the Chieftains. This would also be a good place to sleep off the 5 hour round trip hike to the top of Croagh Patrick.
Favorite Battle Story (even though it was a loss)
Apparently, in 1798, faced with an impending battle with Irish Rebels at the Hill of Tara, a cunning British Commander sent three cartloads of Whiskey along a path controlled by the Rebels knowing they would intercept it. The next day, the well organized, and sober, British troops prevailed over the Rebels.
What We Missed
Rock of Cashel, the Waterford/Wexford area, and Distillery Tours, so much more to do and see…we always have next time.
Favorite Photo
Finally, our favorite photo. I took a bunch with my Canon, but I captured this one with my Lumia 920 phone. It became a tearful reminder of my dad and we looked at it often, toasting fond memories.
Thanks for following our adventure. Mary Jane says "Best birthday ever!"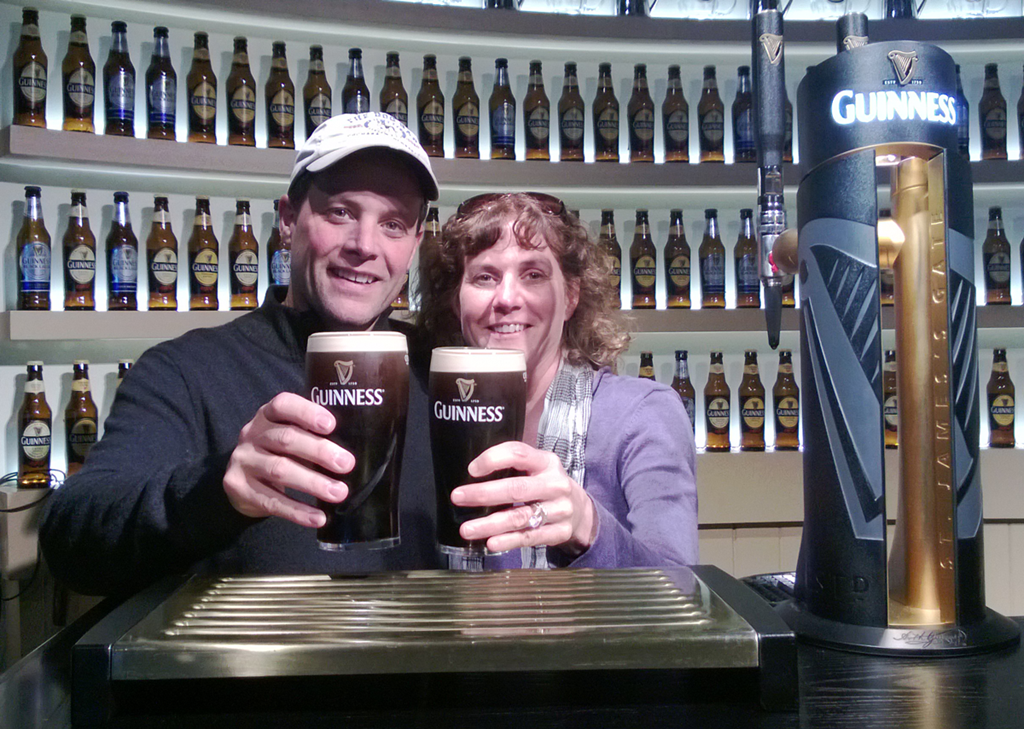 Sláinte! (Cheers!),
Mary Jane and Matthew
The Latest