16. August 2011 tags: radiation treatment, travel, dogs
Silver Lining
Today was Willa's Graduation of sorts from Heart of Texas Veterinary Specialty Center (http://heartoftexasvets.com/). I passed a quivering, trembling Willa off to Deanna for her last Melanoma vaccination. She has had 4 in the past 2 months, wow, how the time has flown.
Following her physical exam Dr. Brown confirmed what I had already seen. The tumor is "different", depending on how you describe it, it is changing in appearance and looks like Willa's immune system is fighting it. You can see the pink of her pallet next to the usual black of the roof of her mouth. The part that used to scare me, the white of the tumor, has turned greyish, pinkish and is not as well defined. Her mouth definitely suffered from the radiation. Two days ago she looked like she had a chapped lip in the corner of her mouth (see her lower lip below). That inflammation is going down, but we're extending the antibiotics just in case.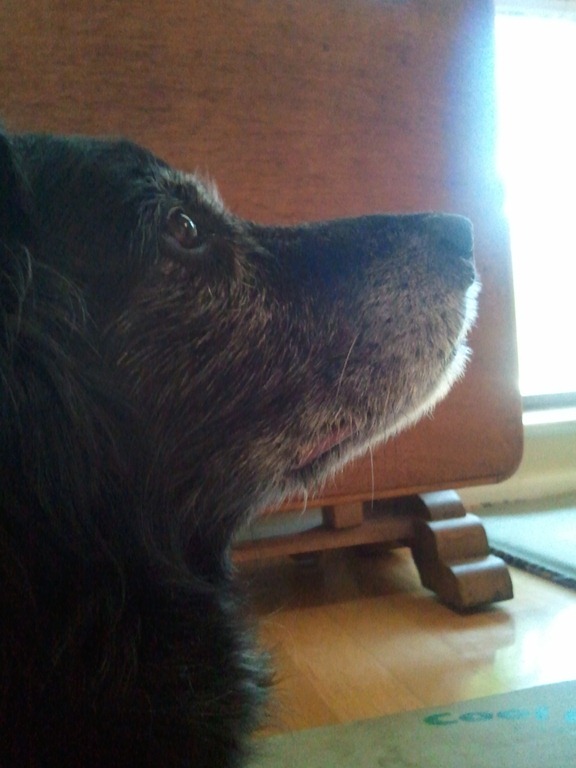 We made our next appointment for a check-up in November. Willa was happy to leave, which is sad, because they really love her there.
Once we got home Willa was back to herself. Chasing squirrels and rolling in the freshly mowed grass. Physically she is doing great. She eats well and shows no sign of growing older.
We have learned from many friends and family that Willa was included in the prayers of individuals as well as whole congregations and a prayer chain that spread around the world. We are so grateful for everyone who contributed to Willa surviving and thriving through this ordeal. We are touched by the thoughtfulness and generosity of those who do not know what an amazing girl she is, but pray for her health and recovery.
Thanks to everyone who cares about Willa, you are our support system.
The Latest