23. July 2011 tags: radiation treatment, dogs
Off to LSU
The team at Heart of Texas Veterinary Specialty Center (we call them HOT Vets) has been over-the-top communicative about the progress and options for Willa's treatment. Deanna, Willa's Oncology Tech, has been keeping us apprised of the availability of the radiation treatment machine at Texas A & M Vet School. They are installing a new one, and the installation is not going well.
On our second visit to the HOT Vets for Willa's vaccine and a checkup, we decided to pursue options other than TAMU. We needed to get Willa's treatment started. Mary Jane has family in Baton Rouge, so it has always been in the back of our minds that LSU Vet School was an option. LSU has the latest technology for treating Willa's kind of tumor.
From the LSU Vet School Web site
Radiation oncologists use radiation to kill cancer cells locally. This allows cancers that cannot be cured with surgery alone to be treated effectively. With the incorporation of radiation it is often possible to perform a less aggressive surgery than would otherwise be necessary, while still achieving a high chance of cure. The radiation oncology service of the CTU uses a linear accelerator to deliver a high energy beam of radiation to the tumor. The LSU CTU is one of the only veterinary school in the country that uses a multileaf collimator to perform intensity modulated radiation therapy (IMRT). This technology allows the radiation beam to be tightly conformed to the tumor contour, sparing normal tissues in the radiation area. This permits precise delivery of a high dose of radiation to the tumor, while sparing critical normal tissues.
All we needed was an appointment to get started. Deanna was on it.
Just another Thursday Morning
Following a great morning of Agility with Willa and Ruby, we got a call from LSU Veterinary Oncology that they could take Willa immediately for her CT scan and then prepare her for 5 days of radiation treatment. They just needed to know when we could get there, suggesting Monday. MJ did not hesitate to ask "How about tomorrow?".
MJ packed herself and Willa, and I prepped the truck, they were off in under 90 minutes. We go to Baton Rouge all the time to visit family, so we know the routine. Willa LOVES "grandma's house" (except for this one grey squirrel). MJ's mom and step-father did not hesitate when we let them know Willa was coming. Many of you know from our videos that MJ's sister lives in Slidell, LA. I gave her a call to let her know that MJ and Willa were on the way and she made plans for she and Jaci (MJ's niece) to spend the night to help MJ and Willa in any way. That's how great everyone has been. No hesitation, no problem, just "What do you need?"
Friar Willa
The first step in the process is for LSU to get a clear picture of the extent of the tumor. Mary Jane took Willa for her CT Scan so that the Oncologist can determine the course of treatment. This will also be the most definitive look at the tumor for us, so we can really KNOW what we're up against. The results of the scan will also help the technicians pin point precisely where to point the beam. They take careful measurements from a reference point on Willa's head, the top of her head…right…..about…..there!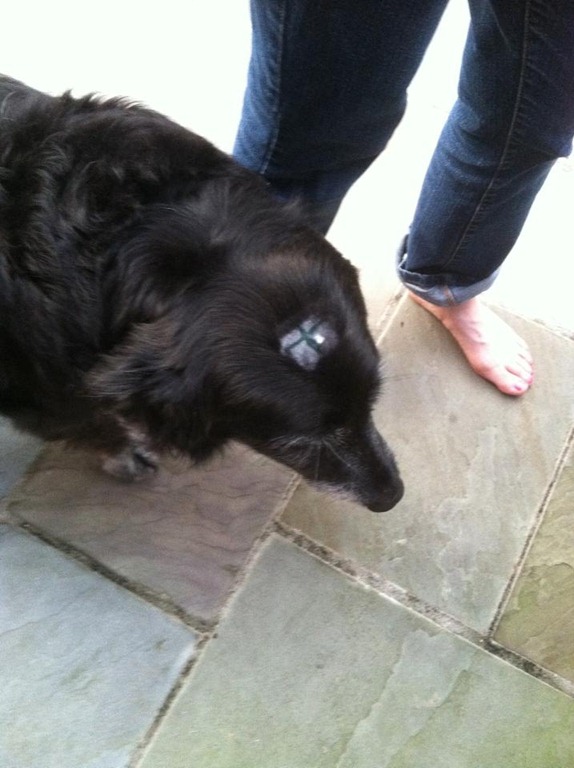 It Takes a Village
If ever I wished I could talk to animals it's now. I wish I could comfort her and tell her this is so she'll have a great quality of life, so she'll get to go swimming and chase squirrels for a few more years. We, thankfully, have the comfort of family, and so does Willa. Where words fail, a gentle caress, scratching that o-so-special spot (5th rib, right side, that makes her back leg twitch), and the love of Willa's "special people" like her "cousin" Jaci. Jaci has known Willa her whole life. Willa (dubbed "Willa Jean" by Cheryl) was so excited to see Cheryl and Jaci at Grandmas house. They greeted Willa with open arms and a new "giraffe-looking" toy immediately dubbed Geoffrey.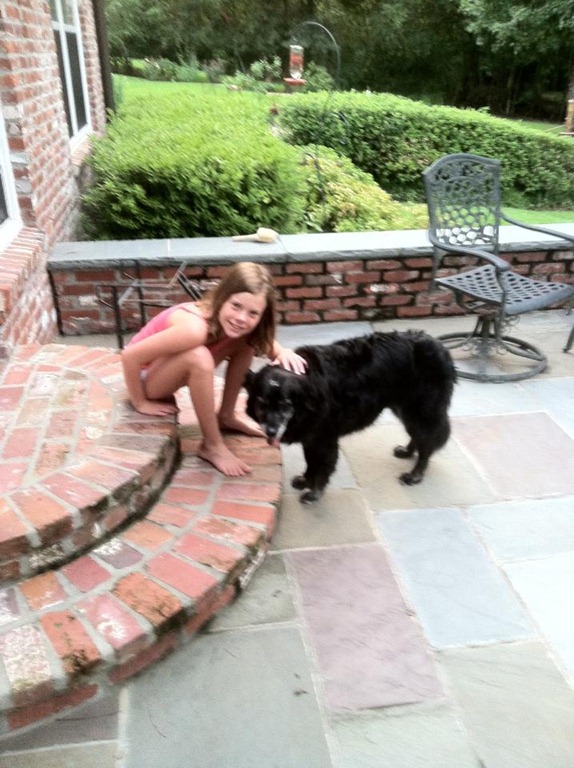 Groggy Doggy
Every visit, every conversation with the vets and technicians involves a flood of information for you to process and make decisions about. Cheryl and Jaci attended the initial consultation and follow-up with MJ to be an extra set of ears, to help MJ process all the information. All of the info was relayed back to me in Austin. Great caring people at LSU, lots of things to be hopeful about. Just need to get the test results.
The first CT scan results came back with encouraging news. The tumor is not invading the jaw bone and appears localized to the tissue of her palate. This is great news for treatment. MJ, Cheryl and Jaci picked up Willa, still groggy from anesthesia, and brought her back to Grandma's house to sleep off the day's treatment and get the meal that she had to skip because of the anesthesia.
MJ is back in Austin with Willa now, tomorrow I'll pack up and head back to Grandma's house for the week of daily radiation treatments.
The Latest